Filling out the FAFSA
Unless you plan to pay for your postsecondary education out of pocket, you need to fill out the Free Application for Federal Student Aid (FAFSA ®) to qualify for financial assistance. This application opens the doors to many kinds of financial aid—Federal Pell Grants, Federal Stafford Loans (subsidized and unsubsidized), Federal PLUS Loans for parents, GradPLUS Loans for graduate and professional degree students, Federal Supplemental Educational Opportunity Grants, Federal Work-Study, and Federal Perkins Loans.
You will need to file a new FAFSA as soon after January 1 as possible each year you go to school.
What You Will Need for the FAFSA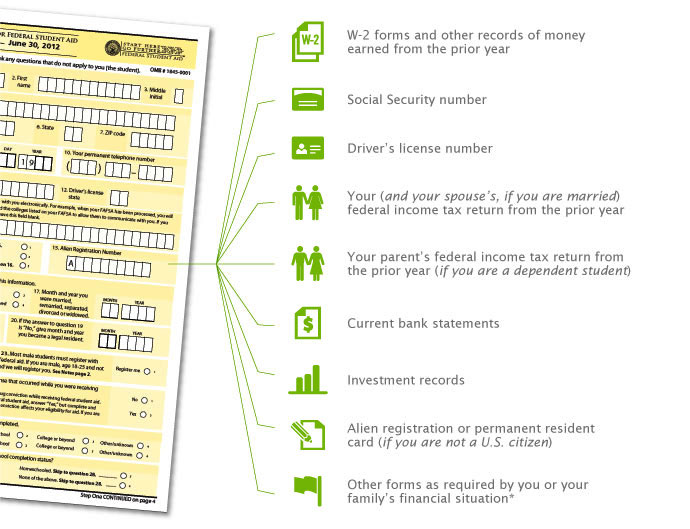 Completing the FAFSA
You have two options for filling out the FAFSA. You may file a paper FAFSA available from the Department of Education by downloading the PDF form, which takes 7 to 10 days to process. You may also file your FAFSA online, which processes in 3 to 5 days. Filing online stores your information electronically, making it easy to refile each year you attend school. You will establish a Personal Identification Number (PIN) that you will use each year.
While filling out the FAFSA, you may choose up to 10 schools that you would like to receive your Student Aid Report (SAR). The SAR is a summary of your FAFSA information that helps each school create a financial aid package, or award letter, that summarizes the financial aid you qualify for according to your unique situation. With your SAR, you'll also receive a Data Release Number, which you can provide to additional colleges so they can access your report electronically. You are not required to take all loans offered to you, so it's important to carefully consider what you really need and how much you'll be able to afford to repay later.
To see FAFSA deadlines, go to the FAFSA website.